Seit Beginn der Corona Pandemie haben wir bei KARMA COLOGNE regelmäßig internationale Gastlehrer, die unseren Kursplan ergänzen. Wir bieten verschiedene Online Kurse mit für euch an. Einige wöchentlich, andere als einmalige Specials.  Normaler Check In, schaut in unseren Kursplan.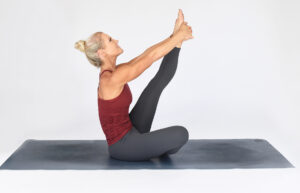 ANDREA MARCUM
Montag, Mittwoch & Samstag 19 Uhr Vinyasa. Live aus Los Angeles.
Vinyasa Open alle Level. Zu Andrea gehen die Hollywood Stars. Und wir 🙂 eine tolle Lehrerin, die auch unser 200 Stunden Training unterrichtet. Anstrengend, viele Erklärungen zur richtigen Ausrichtung, Power. 
I've been teaching for well over 20 years and have been fortunate enough to lead retreats, workshops, teacher trainings and present at festivals and corporate events around the world. Oh, and I wrote a book I'd love for you to read called Close to OM
‍
I believe we practice to discover our inner-beginner… especially if we think we are "advanced" I believe integrity lives in the way we do the simplest of things and I believe there is no good reason to drink bad coffee.
‍
Thanks for joining our comm"U"nity!
NICKY POOLE Dienstag 18 Uhr Vira Vinyasa. Live aus Toronto, Kanada.
Nicky Poole (Leelapod.com) is one of our amazing teachers from Toronto, Canada. She teaches creative vinyasa classes inspired by Shiva Rea. Nicky is originally from New Zealand and owned yoga studios in Vietnam and Canada and is now co-owner of Leelapod. A digital yoga collective with Live classes and On Demand classes.
YUMEE CHUNG
Samstag 16 Uhr Freestyle Vinyasa | Sonntag 21 Uhr Faszien Flow & Atem. Live aus Toronto, Kanada.
YuMee Chung (Leelapod.com) is k
nown for her uplifting, breath-driven classes and intelligent, organic  sequencing, she is a kind-hearted and relatable teacher who communicates  about the most subtle and nuanced parts of the yogic journey with  clarity and grace. Students can expect an impeccable practice that  strikes a sweet balance between spirit and sweat.
Check out her Online portal Leelapod.com. A digital yoga collective with Live classes and On Demand classes.
KATE SMITH JAMISON
Donnerstag 8 Uhr Prana Vinyasa Flow. Live from Belfast.
Kate Smith Jamison is a yoga teacher, yoga therapist, Ayurvedic consultant and Ayurvedic therapist and writer who is based in Belfast, Northern Ireland. Expect a solar breath with movement yoga practice to awaken and open body and mind for the day ahead.
These yoga practices hold their roots in ancient classical yoga traditions and are weaved with Ayurveda's aim of unique inner balance within nature.
These Prana Flow practices have been cultivated over many years by Kate's teacher Shiva Rea and will help you feel more alive and at peace to walk your path.
ADAM HUSLER
Sonntag 10 Uhr Yoga Advanced Advanced and strong Yoga Flow Vinyasa Level 2. Adam Husler live from London. For people with some experience with vinyasa yoga that want to learn and work hard.
NEW BIG SUNDAY ONLINE CLASS – After lots of requests, Adam has decided to add an extra class to his schedule; a 90 min session to kick off your Sunday morning. This class is designed for yogis that, to some degree, know what they're doing and who want to work a little bit harder, for a little bit longer, and learn a little more along the way! This is an extra long version of Adam's weekly sequence, featuring a few more complex asana options, more detailed instructions and generally more space to get into things deeper, in every sense. Adam will stay online for longer to answer any questions related to the sequence and have a little chat; perfect especially for teachers looking to deepen their knowledge.
HOLLY HUSLER – SOUND ASLEEP. Meditation, Yin & Sound Healing. Mittwoch 21:45 Adam's Frau Holly ist eine tolle Sängerin und wird euch mit einer ganz ruhigen Yin Praxis und Sound Healing zu einem entspannten Schlaf verhelfen. Versprochen! 
A bedtime meditation, Yin Yoga and Sound Healing session, designed to help you completely switch off and relax. Get into your pjs and onto your bed or yoga mat, and join Holly for 75 minutes of pressing pause, slowing down and taking precious time to tune into YOU. After calming the mind and body through meditation and gentle stretching, Holly will guide you through a beautiful sound journey with crystal singing bowls and her singing voice to help you slip into a peaceful nights sleep simple and magical.
RAIN MAHER – Prana Vinyasa Flow. Mi 18 Uhr 
Intuitiver Flow nach Shiva Rea.
Rain Maher is a big hearted life loving tree hugging hippy enigma wrapped in a sarong. She's been guiding yoga practices of hatha for 15 years and vinyasa for 9 years. Her main teacher is Shiva Rea. Expect breath led slow build vinyasa flow classes that leave you energised yet relaxed.